Green Light Road Tolls To Get Toronto Moving Again
Green Light Road Tolls To Get Toronto Moving Again
Publisher
Publisher:
Huffington Post
Traffic in the GTHA is a mess. Listening to daily traffic reports is like an endless horror show repeated over and over again on Groundhog Day.
Gridlock costs us big time--$11 billion per year in Toronto alone in lost productivity, slow transport of goods, less commercial activity. This is bad for our economy and environment. It wastes our time and decreases our quality of life.

Commuter traffic on the northbound lanes of DVP, looking south from Lawrence Avenue East. (Photo: Marcus Oleniuk/Toronto Star via Getty Images)
For decades, politicians from all three parties at Queen's Park have pretended that fairy dust and magic money will pay for transit. 
The result? Toronto now has one of the top ten worst commute times in North America. It's especially hard for lower income workers in Toronto's inner suburbs.
We know one thing for sure. Sticking with the status quo and doing nothing will make the mess worse and cost us more.
It's no wonder Toronto Mayor John Tory decided to support road tolls. Toronto needs the revenue to keep moving. I applaud the mayor and Council for showing bold leadership on road tolls.
The premier has now betrayed Mayor Tory by reversing her support for tolls.
Road tolls provide more than just a funding tool to build transit. Road pricing also reduces congestion. It creates incentives to carpool or take transit. Pricing is essential to allocating scarce road resources efficiently and affordably.
Instead of being honest with people about the need for funding solutions, however, politicians at Queen's Park have poured cold water on Toronto's plan to pay for transit.
Channeling their inner Ford Nation, the anti-toll/anti-transit tag team of NDP leader Andrea Horwath and PC leader Patrick Brown have forced a wobbling premier's hand. The premier has now betrayed Mayor Tory by reversing her support for tolls.
GTHA commuters are the ones left at a standstill. This has to change.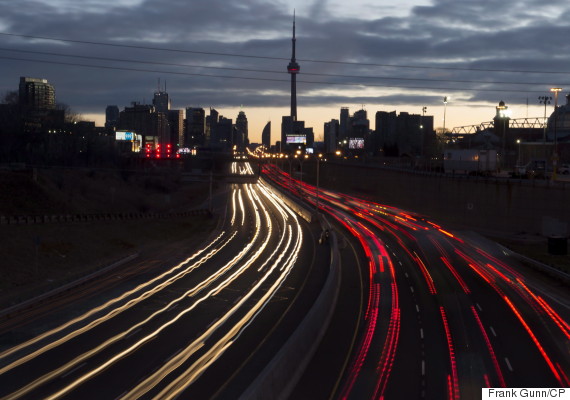 The headlights and tail lights of vehicles are shown as commuters travel into Toronto on the Gardiner Expressway in the early morning hours of Friday Jan. 27, 2017. (Photo: Frank Gunn/CP)
It's true that drivers like me won't like paying more to drive on the road. But I have to pay for ice time, why not road time? Using market mechanisms like road pricing might be our only short-term hope for easing congestion.
If Queen's Park could stop putting up roadblocks and have an honest conversation about funding solutions, we could explore innovative ideas that address people's concerns with road tolls.
For example, dynamic road pricing could charge a congestion fee in and out of the city during rush hour. This would raise revenue, reduce congestion and give drivers a choice. It would not raise as much revenue as a flat toll. But it would use road infrastructure more efficiently, and drivers could avoid the fee by traveling during off-peak hours.
Instead of playing to fear and anti-government anger, Greens want to find win-win solutions for drivers and transit riders.
We are sick and tired of politicians pretending that magic money and fairy dust will fund transit.
Road pricing works. That's why people in the U.S. and around the world are pricing roads.
Greens support road pricing because we are anti-gridlock. We are anti-wasting your time and money in traffic. We want businesses to be able to deliver their products on time.
We support bold decisions made by local councils.
Most of all we demand honesty. We are sick and tired of politicians pretending that magic money and fairy dust will fund transit.
We encourage you to expect more and demand better from Queen's Park. Tell the premier and your MPP to give Toronto a green light on tolls.
Related article
Related article: